Blast Cycle – April 17 2018 – June 26 2018
Compounds-

Compound: Test Cyp
Lab: Alpha Pharma – LINK TO PRODUCT HERE
Mg: 600mg wk =  Split into 3 injections Monday, Wends, & Friday per week

Compound: EQ
Lab: Alpha Pharma – LINK TO PRODUCT HERE
Mg: 500mg wk = Week 1 to 10

Compound: Mastoral (Oral Masteron) / Methyldrostanolone (Superdrol)
Lab: Alpha Pharma – LINK TO PRODUCT HERE
Mg: 5mg per day first week / 10mg per day weeks 2 to 6
Alpha Pharma How to Authenticate Products
START DATE- April 17 2018

UPDATES-
UPDATE May 6th  – So on Sunday I dropped the SuperD. Ill add a video for this one but this is definitely the real deal and a bit to much for my system.
Felt sick and not wanting to eat, so when I've taken a strong oral in the past this is a red flag for me. The pumps are great BUT I'm not really feeling like training due to the strength of the SuperD. So what I'm planning is to cut the SuperD down to half a pill and only take it training days. Ill keep everything else the same but I'm a little old to be pushing the envelope with orals. If you haven't taken this oral before use caution on this one its very strong. Ill keep updating.
THIS GOES WITHOUT A DOUBT THE STRONGEST ORAL I'VE HAD IN YEARS!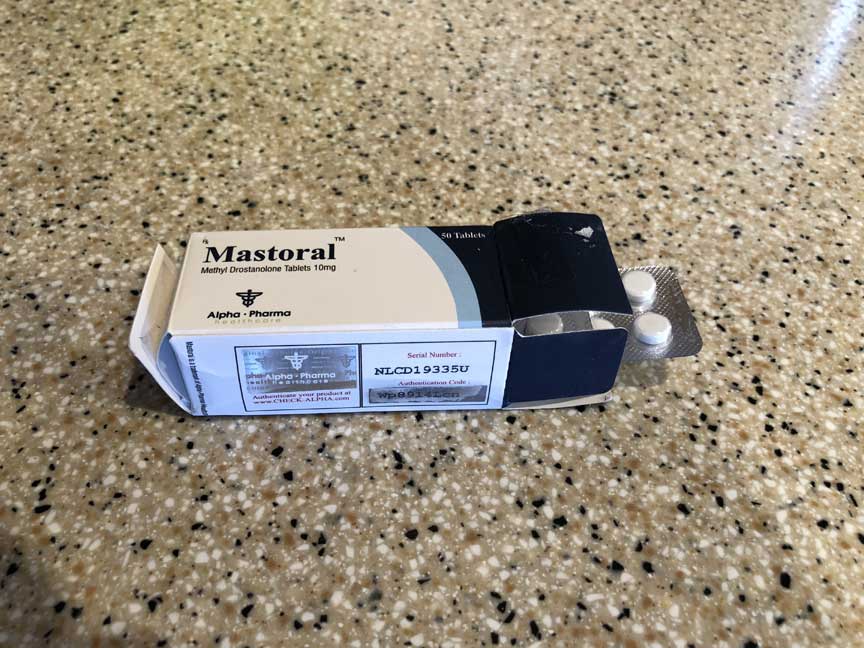 UPDATE April 30th  – Getting over what seemed to be a cold. Pumps are really full even when Im just doing my centuries (feeders) appetite picked up a ton so we will see how the rest of the week goes.
UPDATE April 24th  – Upping the Super D to 10mg per day. Up till today I have been having issues getting enough food appetite really low. Not sure if Im fighting a cold or what or if its the Super D. No appetite and sore throught all week so kind of shitty training. Joints have been hell so Im going lighter with weight and slow negs for reps. Great pumps however and very vascular so far.
UPDATE April 17th  – Will be doing a 3 day a week lifting schedule Super Squats Style (outlined here), days in between will be century or "feeder workouts" along with 20min cardio in the AM. Im running Superdrol for the first few weeks with EQ and Test Cyp then will cut Superdrol and run EQ and Test Cyp rest of the go. Ill keep this updated with my thoughts on the products.
WRAP UP 7/1/18
Make sure to check out my other blog posts including Steroids For Sale, Where to Buy Steroids Online, PCT, and Understanding Blood Tests
Also dont forget to get yourself a VPN if youre not using one already. See our list of BEST VPN Companies
THE ONLY SOURCE YOU NEED FOR HGH, STEROIDS, AND EVERYTHING IN BETWEEN
CLICK LINK BELOW
AMAZING SOURCE FOR PROTEIN, CREATINE, BCAAS, AND & MORE
CLICK LINK BELOW
Latest posts by Victor Brock
(see all)