Last Updated on December 28, 2022 by
SUPER SQUATS
Most of us have spent countless hours combing through magazines and books trying to find a program that really WORKS. "This IFBB Pros workout program listed below" with so many sets for this and that and you don't see ANYTHING as far as results.
As a teen I was desperate to find ANYTHING I could that worked as I'm sure most us are. Things are different now with the internet but I wanted to list a few programs that took me form being laughed at in the gym to being asked advice from young to older and seasoned lifters…pretty cool…
The First one I'd like to reference is one that literally gave me 18lbs of muscle. And I couldn't believe it.
I was 16 and I was reading muscle magazines. I saw an ad in the back of a mag that had a graphic of a guy squatting and it said on the bottom "HOW TO GAIN 30LBS OF MUCLE IN 6 WEEKS" … Of course I was interested… I ordered the book and read it cover to cover faster than I had read anything.
I put the principals to work and I started seeing gains very quickly. Now I didn't see the 30lbs in 6 weeks.. the 18lbs came about 5 months into it. BUT it was SOLID gains and I'm 6'4 so that's a big feat for a guy that couldn't pack on 2lbs haha… all that WITHOUT DRUGS my friends.
Anyway some of the eating advise is a bit outdated. Nutrition has come a long way since this book was published. BUT I think anyone serious about putting on some muscle should at least have this in your library for reference and understand the Squatting principals. I can't stress this enough that this squatting routine can change your life. After 4 months I was asked to join the wrestling team at my high school… to some that may seem stupid and small.. but that was HUGE for me, and I knew THIS SHIT WORKS!
The Book is called SUPER SQUATS and it is based on a 20 rep squatting routine.
As Ive grown older Ive made some variations to the reps and done 30 to 40 rep squats with lower weight to keep my back safer. But try it and see for yourself… and GROW
If you've never read this before this is a great addition to any bodybuilding library.
The Super Squat Routine – The Original: (The program below is with 3 to 4 set warm ups on each exercise BEFORE the mentioned working sets)
Press behind neck (I Do military presses with Dumbbell or Bar) – 3 x 12
Bench press (Incline Alt Exercise With Dumbbell or Bar) – 3 x 12
Rowing (This can be Tbar or Dbar seated rows, Atl Exercise- Pull-ups) – 3 x 15
Standing Bar Curl (I Use EZ Bar 3 sec negative Curls) – 3 x 15
Squat – 1 x 20 supersetted with Pullover – 1 x 20
Stiff legged deadlift – 1 x 15
Pullover – 1 x 20
Toe Raises  – 3 x 20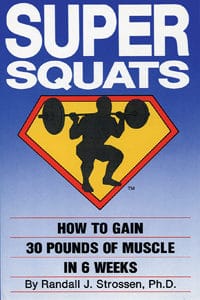 The above routine is the ultimate 'hard gainers' routine and was done 2-3 times a week.
IF NOTHING ELSE CHECK OUT THE SQUAT ROUTINE! IT IS LIFE CHANGING!
I GO INTO MORE DETAIL IN A ARTICLE POSTED HERE
You can find a copy on Amazon here if you're interested.

 
THE ONLY SOURCE YOU NEED FOR HGH, STEROIDS, AND EVERYTHING IN BETWEEN
CLICK LINK BELOW
RELIABLE LEGIT SOURCE FOR MK677 AND SARMS – USE PROMO CODE

ANABOLIC

FOR DISCOUNT
CLICK LINK BELOW
AMAZING SOURCE FOR PROTEIN, CREATINE, BCAAS, AND & MORE
CLICK LINK BELOW