Best Proteins | Best Mass Gainers | Best Pre-Workouts | Best Creatine | Best Fat Burners | Best
Multivitamins | Best Test Boosters | Best Weight-Loss | Best BCAAs
BCAA drinks are among the most widely used fitness supplements for a couple of important reasons. A big one is that they make it easier and more delicious to stay hydrated!
Of course, they also isolate the most important amino acids for building and maintaining lean muscle—leucine, isoleucine, and valine—in thirst-quenching drink powders that happen to taste like the sugary drinks that you might be craving anyway.
See what all the fuss is about and become a BCAA devotee with the best amino blends, recommended by discerning lifters and athletes.
How We Choose the Best BCAAs
BCAAs are so common these days that it's important to make sure the ones you choose have a good nutrient profile and aren't just glorified, sugar-filled sports drinks—and have flavors that make you excited to reach for them every day. We chose these specific products based on the following criteria:
Ingredients: Do the amino acids and other ingredients come from quality sources? Are the formulas well-balanced and transparent?
Customer Feedback: We know that the people in our fitness community are true connoisseurs of BCAAs and swap flavors and formulas like fine wines.
Flavor: These are the ones that lifters order over and over again—not the ones that end up sitting there collecting dust.
Value: Are these products giving you the best bang for your buck? Do they deserve a spot in your fitness budget?
Drink BCAAs daily? You'll want this.
With Subscribe and Gain's convenient subscription service, you'll never run out of your favorite BCAAs again. And delivery is on us!
GO NOW
Best Overall BCAA Product: Xtend Original BCAA
Rating: 9.1 out of 10
Main ingredients: Leucine, isoleucine, valine (2:1:1 ratio), citrulline malate, electrolytes
The first BCAA blend to really explode on the lifting scene, Xtend continues to rule the roost. Its top-selling formula contains 7 grams of combined BCAAs plus electrolytes and vitamin B6 for energy and hydration. With a rainbow of innovative flavors—including some that go great in mocktails—you can choose something different for every gym day so you never grow bored.*
Flavors: Blue Raspberry Ice (7.2), Glacial Grape (7.9), Italian Blood Orange (7.1), Lemon-Lime Squeeze (9.0), Strawberry Kiwi Splash (7.7), Tropic Thunder (7.2)
Better Workouts, Better Taste, Better BCAAs
With 7g of BCAAs to help build muscle and 7 flavors to choose from, this time-tested intra-workout powder delivers on both substance and style!
GO NOW
Best-Tasting BCAA Product: Bodybuilding.com Signature BCAA
Rating: 8.6 out of 10
Main ingredients: Leucine, isoleucine, valine (3:1:1 ratio)
The improved formula of this bread-and-butter BCAA supplement consistently gets rave reviews. In addition to the much-loved Blue Raspberry and Tropical Pineapple, keep an eye out for limited-edition seasonal flavors.
Signature BCAA also packs extra leucine for its high anabolic potential, in a 3:1:1 ratio of leucine, isoleucine, and valine. Most other brands only include leucine in a 2:1:1 ratio.
Flavors: Blue Raspberry (8.6), Tropical Pineapple (8.3)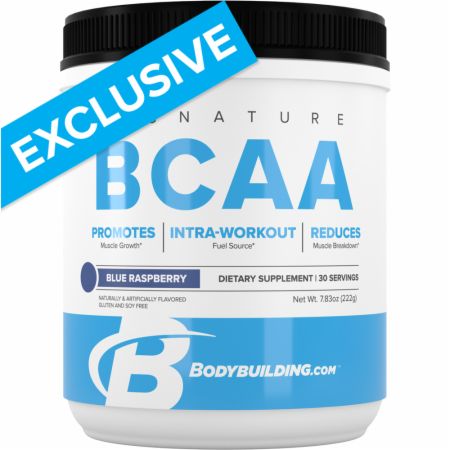 Flavor That Packs a Punch!
Our community raves: "The best flavored BCAA I've had to date!" This affordable, high-quality product dissolves easily in water and fits with any nutrition plan.
GO NOW
Best BCAA Blend: Cellucor Alpha Amino

Rating: 9.2 out of 10
Main ingredients: Leucine, isoleucine, valine (2:1:1 ratio), betaine anhydrous, electrolytes
In addition to 5 combined grams of leucine, isoleucine, and valine, Alpha Amino provides a full profile of 11 essential amino acids for more complete nutrition, as well as electrolytes for hydration. These additions make Cellucor's blend a well-rounded, premium product that stands out on the shelf.*
Flavor: Watermelon (8.7)
A Well-Rounded Blend for a Well-Rounded Physique!
Fuel endurance, hydration, and recovery with this premium blend of 11 essential amino acids to help your muscles grow!*
GO NOW
Best BCAA Product for Recovery: JYM Supplement Science JYM BCAAs
Rating: 9.8 out of 10
Main ingredients: Leucine, isoleucine, valine (2:1:1 ratio)
Jim Stoppani's scientifically rigorous JYM BCAAs blend is dosed specifically to help you recover effectively from the toughest lifting sessions. The transparent ingredient profile is formulated to support muscle protein synthesis between meals and workouts, thereby promoting recovery and growth. Sip it post-workout and on rest days to blast into your next session fully charged.*
Flavors: Green Apple Candy (7.5), Peach Rings (10)
Effective Recovery, Serious Results
Our community loves JYM's nostalgic candy flavors and how easily JYM BCAAs stack with other JYM products.
GO NOW
Best BCAA Product for Energy: EVLUTION NUTRITION BCAA Energy

Rating: 9.4 out of 10
Main ingredients: Leucine, isoleucine, valine (2:1:1 ration), beta-alanine, caffeine (110mg)
This multi-benefit powerhouse takes the place of your BCAA and pre-workout in one, making it a great supplement value that simplifies your routine. BCAA Energy's fully-loaded formula combines premium aminos with natural energy from green coffee and green tea, plus ingredients to maximize recovery, energy, and endurance.*
It's a perfect afternoon pick-me-up, but also works to prime your body and mind for training.
Flavors: Blue Raz (9.1), Cherry Limeade (9.4), Furious Grape (9.2)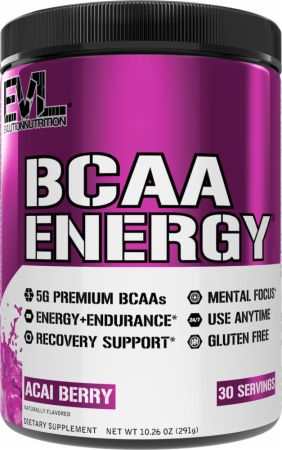 Energy + Recovery: The Best of Both Worlds!
Simplify your workout routine with this 2-in-1 BCAA formula that delivers natural pre-workout energy and top-quality intra-workout hydration and recovery!*
GO NOW
Best BCAA Product for Weight Management: RSP Nutrition AminoLean Amino Acids
Rating: 9.6 out of 10
Main ingredients: Leucine, isoleucine, valine (2:1:1 ration), L-carnitine, CLA, green coffee bean extract, caffeine (130mg)
One of our best-selling supplements, AminoLean is our top choice for anyone launching into a weight-loss fitness plan. Natural caffeine and tea compounds provide smooth energy and support appetite, and the amino acid blend fuels your muscles without adding calories. It all adds up to help you crush your fat-burning workouts while making it easier to stick to your nutrition plan. Over 3,000 reviewers know what they're talking about!*
Flavors: Blackberry Pomegranate (9.4), Blue Raspberry (9.6), Fruit Punch (9.4), Pink Lemonade (9.3), Watermelon (9.3)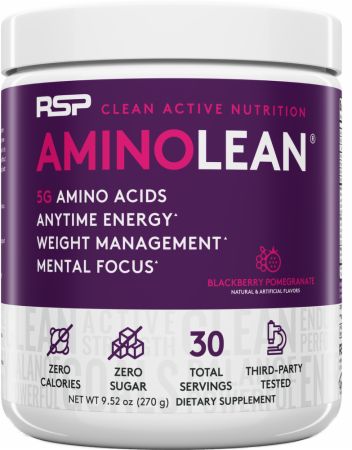 Burn Fat and Recover Fast
This best-selling BCAA product is a fitness game-changer! Reviewers love the wide range of flavors. (The blackberry pomegranate is seriously crave-worthy.)
GO NOW
Best Vegan BCAAs: RSP Nutrition AminoLean Vegan Aminos
Rating: 9.9 out of 10
Main ingredients: Leucine, isoleucine, valine (2:1:1 ration), L-carnitine, CLA, green coffee bean extract, caffeine (130mg)
AminoLean Vegan is a natural combination of BCAAs and weight-loss ingredients, providing all the same benefits as the original AminoLean in a vegan-friendly formula that's naturally flavored and sweetened with stevia. If you find other BCAA blends too sweet or want to make sure they didn't come from animal sources, this blend is for you.
Flavors: Acai (7.6), Cucumber Lemon (10), Pineapple Coconut (9.9)
Delicious Animal-Free BCAAs
Our reviewers loved the fresh, fun flavors, especially pineapple coconut and the ultra-refreshing cucumber lemon.
GO NOW
Best BCAA Product for Hydration: EVLUTION NUTRITION Hydramino Electrolytes + Amino Acids
Rating: 9.8 out of 10
Main ingredients: Leucine, isoleucine, valine (2:1:1 ration), L-taurine, electrolytes, greens blend, antioxidant blend
The best BCAA products don't just help you stay hydrated because they're yummy and easier to chug than plain water. In truth, the other ingredients beyond just flavor are what help you stay truly hydrated and ready for action. Hydramino contains all 6 electrolyte-charged essential minerals to replace what you lose in sweat, plus a host of other goodies: antioxidants, greens, and high-quality vitamin B12.
And yes, it tastes amazing, so you'll find yourself shaking it up all day long.
Flavors: Blue Raz (9.4), Fruit Punch (10), Orange Mango (9.6)
Don't Sweat Away Your Gains!
When working up a sweat in the gym, use Hydramino's antioxidant BCAA formula to replace those lost electrolytes and rehydrate quickly for a better and more effective workout!
GO NOW
*These statements have not been evaluated by the Food and Drug Administration. This product is not intended to diagnose, treat, cure, or prevent any disease.